Podcast Publishing
Modern podcast platform for large radio stations to solo podcasters.
Pricing & signup
Radio friendly features
Work together to build and monetise your online audio content.
Multiple shows & users
Multiple shows and users under one account, ideal for radio stations.
Publishing portal
Publish episodes, draw usage reports and manage your content library online.
Dynamic ad insertion
Dynamically insert and remove audio ads, delivered with country-level geo-targeting.
Scheduled publishing
Publish or archive episodes at future date and time.
Permanent archive
Build an online archive of all published content.
Migrate / Syndicate
Sync your existing content from external RSS feeds.
Smart web player
Modern and user friendly, with powerful features below the surface.
Add our modern web player to any website with just one line of HTML. A clean and user friendly interface hides an intelligent piece of software:
●

Embed one episode or automatically follow a show.

●

Auto-selects optimal audio codec for browser.

●

Tracks anonymised user behaviour for listening analytics.

●

Mobile friendly with pure HTML4 fallback for old devices.

●

Allows switching between available bitrates.

●

Basic theming support available on Radio packages.



Playlists with continuous playback provide a more radio-like experience.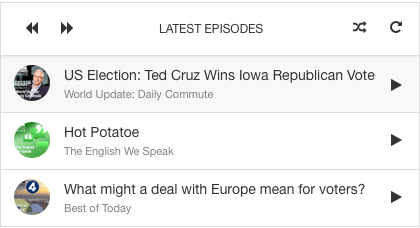 Optional playlist to showcase other episodes.
Supports sequential "series" type shows.
Continuous playback with shuffle mode.
Add a show, popular episodes or all content.
Multiple bitrates & formats
Multiple versions available to cater for different users, devices and networks.
Different bitrates allow users with slow or expensive data to choose a lower quality podcast, while high fidelity remains available. Great for developing markets where expensive mobile networks dominate, while sacrificing no quality in developed markets.
Each bitrate is also available in multiple codecs to guarantee full compatibility with older devices while retaining the best codec for modern devices. And with our modern web player, listeners do not need to choose - they simply click play and get the best possible result.
All packages
Output bitrates
Low
28 kbps
Medium
56 kbps
High
96 kbps
Output formats
AAC
MP3
Total output files
6
All podcast files and dynamic ads use modern perceptual loudness normalisation to ensure a consistent volume level for listeners.
| | All | Pro+ |
| --- | --- | --- |
| CSV output | | |
| Show and episode drill-down | | |
| Peak listen times | | |
| Countries | – | |
| Cities | – | |
| Devices | – | |
| Operating systems | – | |
| Browsers & applications | – | |
| Quality & format | – | |
Rich reporting
Up-to-the-minute analytics.

Get deep insights into what, where and when your users are listening. Our online portal provides rich print-ready reports with up to the minute data on your listeners.