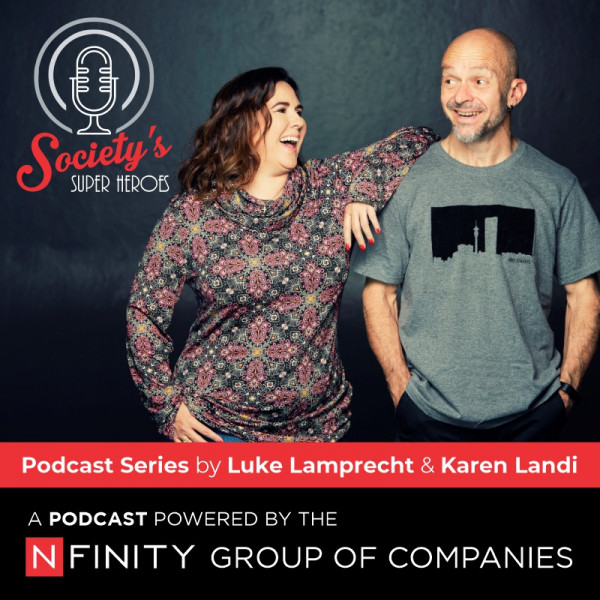 Society's Super Heroes
Society's Super Heroes is a podcast series celebrating the men, women and organisations who have dedicated their lives to empowering communities, and who work tirelessly to improve the lives of others.

Each sector commemorates an annual day. The days are occasions to educate and to reinforce achievements in humanity. These days are the perfect springboard for awareness raising actions. We will be curating conversations with Super Heroes to explore what their day means to them and shine a spotlight on the work that they are doing. We will be sharing stories of hope and inspired active citizenship as we shift consciousness.

Society's Super Heroes is hosted by Luke Lamprecht and Karen Landi. Luke has three decades of experience working in the non profit and child protection and development sector. Luke is the Developmental Director of Fight with Insight, a boxing program for inner city youth. Fight with Insight is in Hillbrow, one of the toughest neighbourhoods in the world. Through Fitness, Fun, Friends, and Food, Luke is part of a team of people changing the Future of the youth. Luke chose the road less travelled and shines a light into the darkness, asked why he goes into the darkness, he responds, "because there are people there". Luke is a serial social entrepreneur and is actively involved with numerous advocacy groups. Karen is a change maker and social entrepreneur with a passion for the youth, active citizenship, and community building. In 2017 Karen co founded Community Hours – a youth volunteering platform, through the platform Karen mindfully worked to change the perceptions of young people around community service, social cohesion and volunteering. She currently runs Ei8ht – a co working space, networking and communications platform for the non profit sector.