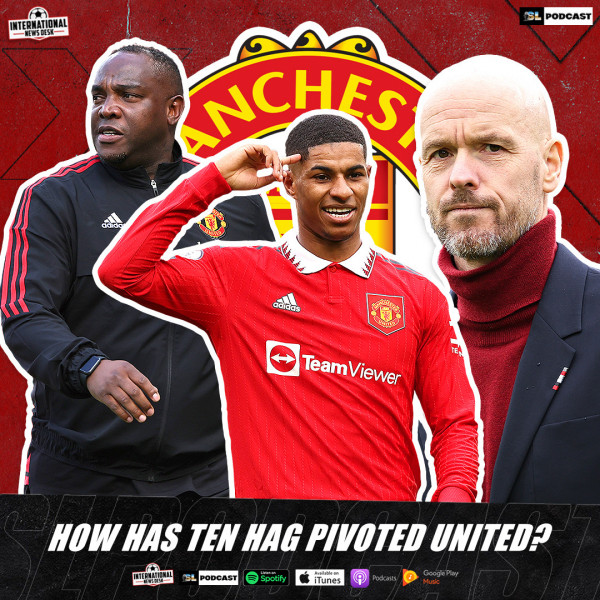 How Has ten Hag Has Pivoted United?
After a less-than-poor start to the season, Eric ten Hag and Manchester United are looking as if they have returned to the frightening team they once were during Sir Alex Ferguson's days. Teams are now looking clueless when they have the ball against the Red Devil and United is now once again, deadly on the counter. The red half of Manchester is licking their lips seeing the beloved team currently in 3rd place in the league, in a final against Newcastle United, still in the FA Cup, and after schooling Barcelona at the Camp Nou, encouraged for what's next. If you had to speak to a Manchester United fan at the start of the 2022/23 English Premier League, they would go as far as saying "I would bite your hand off if you gave me a top-4 finish." The Red Devils will face Barcelona, at Old Trafford, on Thursday night in the second leg of their UEFA Europa Leg tie and it was just a few days ago, when ten Hag screamed to the fans "come Thursday, it is a big game. Make sure you are there and we are sure we can beat Barcelona together."

Other English clubs in Europe, such as Chelsea and Liverpool got the shorter end of the stick during their UEFA Champions League fixtures, with Liverpool getting thrashed by Real Madrid 5-2. Chelsea suffered yet another defeat under the guidance of Graham Potter, narrowly losing 1-0 to Borussia Dortmund. Questions of both Jurgen Klopp and Graham Potter are being asked, with the futures of these managers up in the air.

Breaking news coming out of Spain, suggests that Lionel Messi COULD return to Barcelona, as long as the financial implications don't negatively impact the club. Leaked news suggests that Messi's father met with Barca's president, to discuss this move, and it would appear as if Messi is not phased with PSG and doesn't care about the club. Could we see the little Argentinian magician return to the club so close to his heart?

On the latest episode of the International News Desk, Conversations about Manchester United and how Eric ten Hag has brought the Red Devils out of a slump are had. UEFA Champions League fixtures and results are discussed with some shock surprises, and Lionel Messi's father has had a meeting with the president of Barcelona!