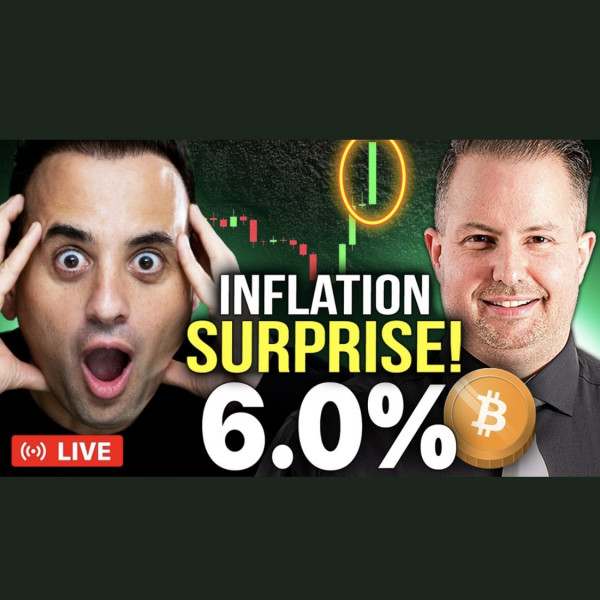 MEGA INFLATION DECLINE TO SEND BTC TO $30K IMMINENTLY!!
The CPI inflation data could send the Bitcoin price over $30,000 and Altcoins would have the biggest rally since 2021!! Watch today what a strong inflation number means for the markets and how you need to be positioned right now to ensure that all profits are BANKED! In today's episode of Crypto Banter, Ran is joined by pro trader Gareth Soloway! Don't miss it!!
⚠️ 𝗕𝗘𝗪𝗔𝗥𝗘 𝗢𝗙 𝗦𝗖𝗔𝗠𝗠𝗘𝗥𝗦 𝗜𝗡 𝗢𝗨𝗥 𝗖𝗢𝗠𝗠𝗘𝗡𝗧𝗦 𝗔𝗡𝗗 𝗖𝗢𝗠𝗠𝗨𝗡𝗜𝗧𝗬 𝗖𝗛𝗔𝗡𝗡𝗘𝗟𝗦
- - - - - -
𝗦𝗽𝗲𝗰𝗶𝗮𝗹 𝘁𝗵𝗮𝗻𝗸𝘀 𝘁𝗼:
🎵 DJ Asher Swissa
- Track:
https://bit.ly/336wtix
- Channel:
https://bit.ly/31soP1j
🎵 Marc Rebillet
- Track:
https://bit.ly/3pXQW21
- Channel:
https://bit.ly/332zhx9
- - - - -
𝗗𝗶𝘀𝗰𝗹𝗮𝗶𝗺𝗲𝗿:
Crypto Banter is a social podcast for entertainment purposes only!
All opinions expressed by the hosts, guests and callers should not be construed as financial advice! Views expressed by guests and hosts do not reflect the views of the station. Listeners are encouraged to do their own research.
#Bitcoin #Crypto #Altcoins
𝗧𝗶𝗺𝗲𝘀𝘁𝗮𝗺𝗽𝘀:
00:00 CPI Inflation Data & Bitcoin Price
05:00 Gareth Soloway - Bitcoin Analysis
08:34 FED Causing the Banking Collapse
10:05 DXY, S&P 500, Gold & Silver Prices
19:10 New CPI Inflation Numbers Explained
26:10 Bitcoin Price & Bitcoin Dominance
27:45 Operation Choke Point Explained
32:35 Banking Collapse & Bitcoin Price
34:00 Buy Bitcoin Now? Bitcoin Halving
35:32 Bitcoin NFTs & Related Protocols RUNE
38:56 CZ Binance Deploying $1 Billion
41:14 Joe Biden - US Banking System is Safe
43:15 Silicon Valley Bank & Other Crypto News