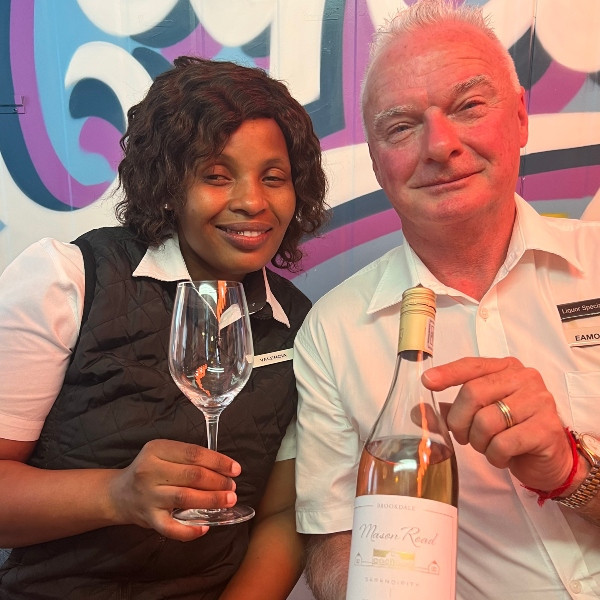 Valencia and Eamonn present the Tops@Lifestyle Wine of the Week
Mason Road Serendipity 2022
VINTAGE CHARACTERISTICS
The 2022 vintage will be remembered as a cool season before harvest,
followed by a sudden temperature spike from January. Good vineyard
practices were followed, and canopies were managed well, which
delivered exceptional grape analyses and wine quality. Temperatures
rose sharply during early January and accelerated the early cultivars'
ripening dates, although we harvested more than a week later than
the previous year. Frequent high temperatures during February further
contributed to harvest dates shifting sooner and harvesting returned
to normal timing by the end of February. We were fortunate not to
experience any crop losses or mildew infections.
TASTING NOTES
SYRAH • GRENACHE NOIR • CINSAULT
A Provence-style rosé with a pale salmon pink colour. Fragrant notes
of hibiscus, fynbos-spice and wild strawberries unspool on the nose.
The palate is red-fruited and generous, plumped with raspberries,
mulberries and sappy cherries; then lifted on the mid-palate with
refreshing watermelon verve. Keenly balanced with a lemony acidity, all
that beautiful, bright fruit is cradled in a fine-boned structure imbued
from old oak ageing.
WINEMAKING
Careful bunch selection was carried out in the vineyard. The Grenache
and Cinsault grapes were whole-bunch pressed, settled overnight and
then allowed to ferment in 500 litre old French oak barrels. The Syrah
portion was whole-bunch pressed and then transferred to steel tanks for
fermentation in order to preserve freshness. The Cinsault and Grenache
went through secondary fermentation for added aromatic complexity.
This wine was partially matured in old oak barrels for 11 months, adding
complexity and body.