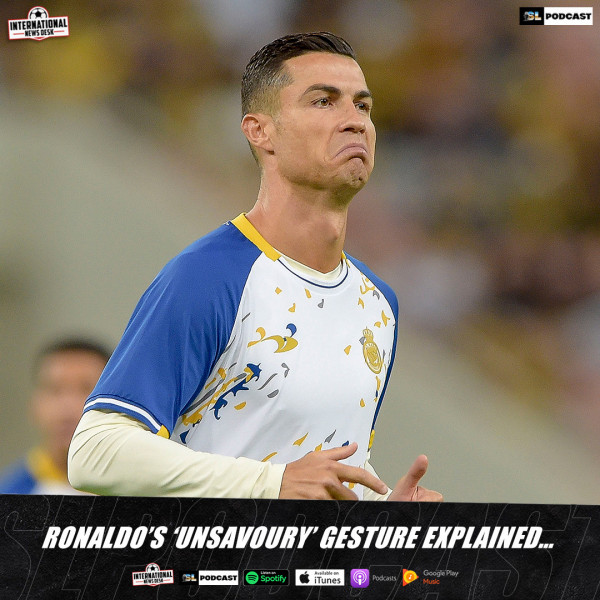 Ronaldo's 'Unsavoury' Gesture Explained…
Cristiano Ronaldo has never been shy of intimidating fans, coaches, or even colleagues, but it would appear as though his recent antics have gotten him in hot water. After Al Nassr lost to Saudi Pro-League team Al Hilal, opposition fans were chanting Messi's name as the Portuguese superstar was leaving the field. Amidst this, CR7 was seen grabbing his genitals, in what would at first glance appear, an action directed at the fans. Many have now called for Ronaldo to be deported from Saudi Arabia and a top lawyer has now filed a complaint. Al Nassr was very quick in suggesting that Ronaldo was dealing with an injury in an unsavory area, which is why he was caught clutching his groin area. As it stands, it does not appear as if this issue will be escalated.

Rumour has it, is that Lionel Messi has provisionally reinstated his kids in a school in Barcelona, amidst a possible return back to the Catalan giants. Messi's contract with his current team Paris Saint-Germain (PSG), is coming to an end and Barcelona is publically expressing its interest. La Liga president Javier Tebas has explained that should Barcelona manage to sort out its financial situation and 'fix the books,' Messi's return will be possible. The issue Barce faces is that they would have to get rid of young, generational talent to 'make way' for a 35-year-old player. We all agree that Messi is one of the greatest of all time, but plans for the future need to be made. This move would bring the masses back to Barcelona with a level of excitement unmatched.

On the latest episode of the International News Desk, former Mamelodi Sundowns and Sheffield Wednesday goalie Sean Roberts speaks with Soccer Laduma international news correspondent Kurt Buckerfield about Lionel Messi's possible return to Barcelona, Cristiano Ronaldo's 'inappropriate gesture' to Saudi fans and the disastrous effort by Manchester United. The gents also break down the UEFA Champions League quarter-final fixtures and discuss the possible outcome of this season's UCL winner!