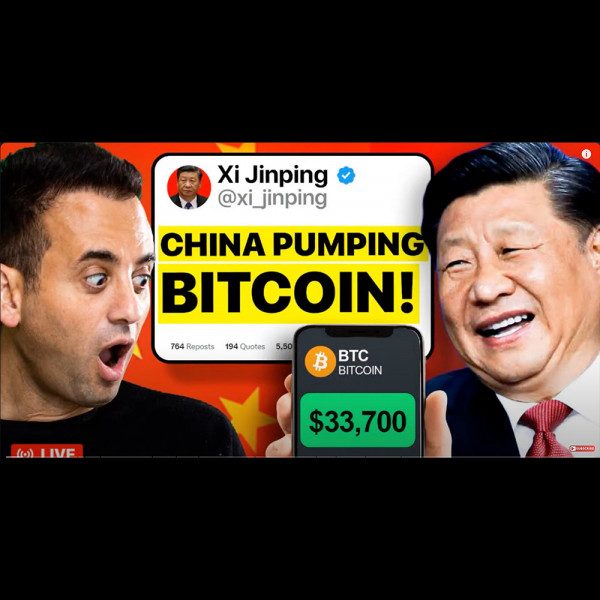 Why China Is PUMPING BITCOIN RIGHT NOW! ($33700)
China is Buying Bitcoin! Join CryptoManRan on today's episode of Crypto Banter as he dives into what this means for the future of Bitcoin and why you should not fade today's Crypto Pump! DO NOT MISS THIS SHOW!
⚠️ 𝗕𝗘𝗪𝗔𝗥𝗘 𝗢𝗙 𝗦𝗖𝗔𝗠𝗠𝗘𝗥𝗦 𝗜𝗡 𝗢𝗨𝗥 𝗖𝗢𝗠𝗠𝗘𝗡𝗧𝗦 𝗔𝗡𝗗 𝗖𝗢𝗠𝗠𝗨𝗡𝗜𝗧𝗬 𝗖𝗛𝗔𝗡𝗡𝗘𝗟𝗦
- - -
𝗦𝗽𝗲𝗰𝗶𝗮𝗹 𝘁𝗵𝗮𝗻𝗸𝘀 𝘁𝗼:
🎵 DJ Asher Swissa
- Track:
https://bit.ly/336wtix
- Channel:
https://bit.ly/31soP1j
𝗗𝗶𝘀𝗰𝗹𝗮𝗶𝗺𝗲𝗿:
Crypto Banter is a social podcast for entertainment purposes only!
All opinions expressed by the hosts, guests and callers should not be construed as financial advice! Views expressed by guests and hosts do not reflect the views of the station. Listeners are encouraged to do their own research.
#Bitcoin #Crypto #Altcoins
⏱𝗧𝗶𝗺𝗲𝘀𝘁𝗮𝗺𝗽𝘀:
00:00 Bitcoin Price Action in September
01:34 Bitcoin Pumping & FOMC Meeting this Week
03:34 China Buying Bitcoin - Open Interest
04:50 Banter Bubbles - Altcoin Prices Today
05:15 Bitcoin Pump Lead by China - BTC Arbitrage
06:15 US Dollar Index DXY vs. Bitcoin Price
09:48 Long-Term Bitcoin Holders - FOMC Meeting
11:25 Inflation Reading & Oil Price Today
12:55 Chinese Market in Trouble - Yuan Depreciating
16:45 Gold Prices & Bitcoin Price Premium in China
20:57 Token2049 Singapore - No Bear Market in Asia
22:15 Circle + Grab Enable Web3 Integration
24:15 Crypto News Today - Mark Cuban's Wallet Hacked
26:40 Millionaires and Billionaires Created in Crypto
Listen to more Podcast with RAN.