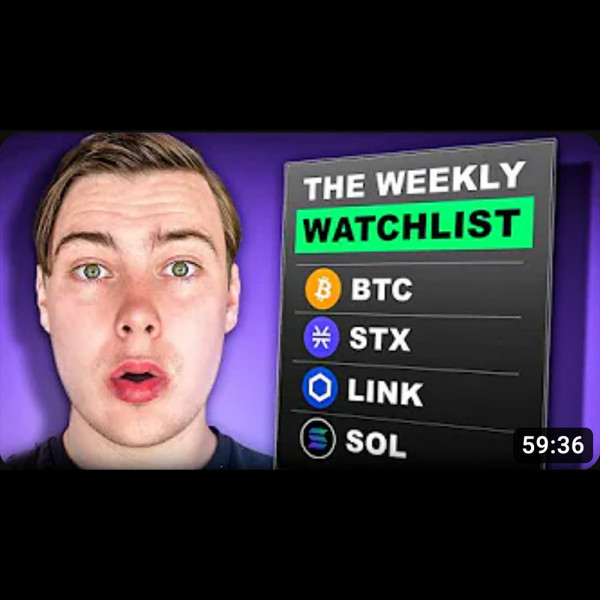 3 Altcoins I'm Buying This Week! (Insiders Are Accumulating)
In today's episode of Crypto Banter DeFi, Miles will take a deep dive into who's buying massive amounts of Bitcoin right now, and why maybe we should be buying too! Stay tuned for the latest news in the crypto market! Don't miss your entries!!

⚠️ 𝗕𝗘𝗪𝗔𝗥𝗘 𝗢𝗙 𝗦𝗖𝗔𝗠𝗠𝗘𝗥𝗦 𝗜𝗡 𝗢𝗨𝗥 𝗖𝗢𝗠𝗠𝗘𝗡𝗧𝗦 𝗔𝗡𝗗 𝗖𝗢𝗠𝗠𝗨𝗡𝗜𝗧𝗬 𝗖𝗛𝗔𝗡𝗡𝗘𝗟𝗦

Crypto Banter is a live streaming channel that brings you the hottest crypto news, market updates, and fundamentals of the world of digital assets – "straight out of the bull's mouth"!! Join the fastest-growing crypto trading community to get notified on the most profitable trades and the latest crypto market update & news!!

𝗗𝗶𝘀𝗰𝗹𝗮𝗶𝗺𝗲𝗿:
Crypto Banter is a social podcast for entertainment purposes only!
All opinions expressed by the hosts, guests and callers should not be construed as financial advice! Views expressed by guests and hosts do not reflect the views of the station. Listeners are encouraged to do their own research.

#TradingBitcoin #CryptoTrading #AltcoinWatchlist

⏱𝗧𝗶𝗺𝗲𝘀𝘁𝗮𝗺𝗽𝘀:
00:00 Weekly Altcoin Watchlist & Bitcoin Price
01:14 Bitcoin Price Today - Technical Analysis
03:57 Bitcoin Open Interest Increase
06:18 Binance News - Is Binance Insolvent?
09:50 Recession Looming - Diversifying Assets
12:05 Liquidity - Why Bitcoin is Going Up and Down
14:22 Bitcoin Long-Term Holders Supply & BTC Price
16:10 Trading Altcoins - This Weeks Watchlist
17:40 Token2049 Singapore Recap
20:40 Crypto Market Needs for the Next Bull Market
23:24 Bitcoin Dominance & Altcoins Outperforming BTC
24:30 Bitcoin Proxies - Trading Stacks STX
26:18 Trading Arbitrum - News, Announcements & TA
30:44 ARB Token Unlocks Compared
33:35 Perp DEXes - GMX, Gains & How Much Cash to DCA?
42:00 Trading Radiant RDNT & Rollbit RLB, LINK & SOL

Listen to more Podcast with Miles Deutscher.