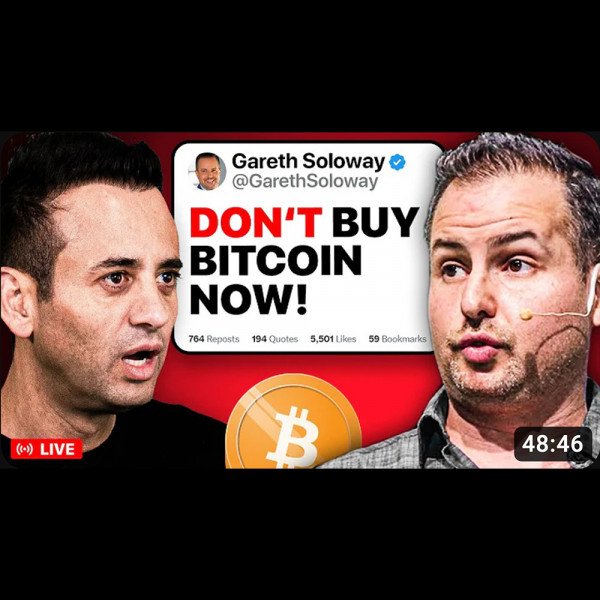 "DO NOT Buy Bitcoin Now! Here's WHY..." | Gareth Soloway
Join Cryptomanran and Gareth Soloway on this episode of Crypto Banter as he dives into the latest Bitcoin price action ahead of the FOMC meeting tomorrow! Is this a bull trap or has the rally just begun? Find out now!
⚠️ 𝗕𝗘𝗪𝗔𝗥𝗘 𝗢𝗙 𝗦𝗖𝗔𝗠𝗠𝗘𝗥𝗦 𝗜𝗡 𝗢𝗨𝗥 𝗖𝗢𝗠𝗠𝗘𝗡𝗧𝗦 𝗔𝗡𝗗 𝗖𝗢𝗠𝗠𝗨𝗡𝗜𝗧𝗬 𝗖𝗛𝗔𝗡𝗡𝗘𝗟𝗦
- - -
𝗦𝗽𝗲𝗰𝗶𝗮𝗹 𝘁𝗵𝗮𝗻𝗸𝘀 𝘁𝗼:
🎵 DJ Asher Swissa
- Track:
https://bit.ly/336wtix
- Channel:
https://bit.ly/31soP1j
- - -
𝗗𝗶𝘀𝗰𝗹𝗮𝗶𝗺𝗲𝗿:
Crypto Banter is a social podcast for entertainment purposes only!
All opinions expressed by the hosts, guests and callers should not be construed as financial advice! Views expressed by guests and hosts do not reflect the views of the station. Listeners are encouraged to do their own research.
#Bitcoin #Crypto #Altcoins
⏱𝗧𝗶𝗺𝗲𝘀𝘁𝗮𝗺𝗽𝘀:
00:00 How High Can the Bitcoin Price Rally?
01:00 Jerome Powell, FOMC Meeting & Binance FUD
03:21 Altcoin Prices & Bitcoin Price Rising
08:10 BTC Fundamentals Today - On-Chain Data
11:20 Financial Institutions Entering Crypto
15:35 History of Visa vs Blockchain Technology
17:30 FOMC Meeting, Inflation & Interest Rates
20:10 How to Loose a F-35 Fighter Jet?
23:10 Binance FUD - SEC vs Binance Hearing - Ceffu
26:10 Dylan LeClair on Binance Loans
29:30 Bitget Kings Cup Crypto Trading Competition
31:18 Trading Altcoins - ETH, INJ, SOL, RLB & KUJI
35:51 Gareth Soloway - FOMC Meeting & Oil Prices
39:00 Bitcoin Technical Analysis, Market Events, DXY & Gold
Listen to more Podcast with RAN.