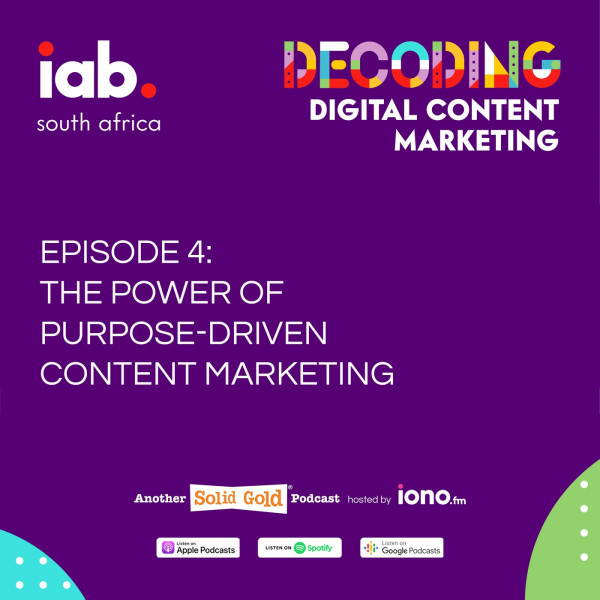 #4 04 The Power of Purpose-driven Content Marketing
How purpose can supercharge a brand's content marketing strategy.

Host:
Zodwa Kumalo (Arena)

Guests:
Noxolo Mafu (Creative Lead | BrandStudio 24.com)
Pride Maunatlala (Founder | ar.che.ty.pal)

In this episode of IAB South Africa's Decoding Digital Content Marketing mini-series, Noxolo Mafu Creative Lead at BrandStudio 24.com and Pride Maunatlala, Founder of ar.che.ty.pal, talk to host Zodwa Kumalo, Group Native and Branded Content Editor at Arena Holdings about the significant difference between brand storytelling (branded content) and content marketing, powered by a brand.

The expert panel discusses why we, as humans, connect so intimately with purpose over product and the importance of purpose being authentically aligned to the brand. They also reference global and local best practice examples of brilliantly executed purpose-driven content marketing which highlights added-value content, led with purpose, that drives results and share their thoughts on 2021 trends that have seen audiences seeking purpose amidst the global pandemic and an increase in social awareness amongst consumers.