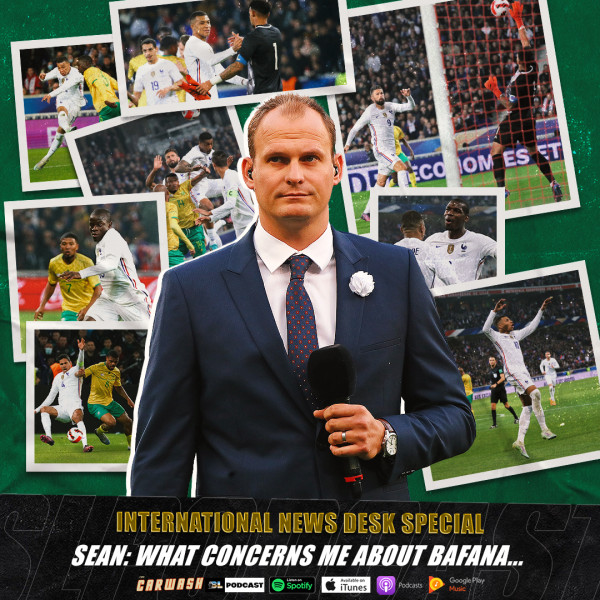 Sean: What Concerns Me About Bafana...
With the International break almost over, the world cup qualification is just about finished which sees 5 very strong African teams heading to Qatar. The regular European and South American teams will also feature. During this international football break, Bafana Bafana traveled to France to play the world champions in an international friendly. 65 places separated these two teams on the official FIFA rankings and 'Le Bleus' made sure they meant business. Unfortunately, there was a clear difference in skill level between the two teams; Bafana captain Ronwen Williams made many outstanding saves, but 5 goals were still conceded. One thing that stood out was the fact that no matter what the scoreline was, Bafana still tried to stick to their game plan. Although a few positives could be taken from the match, questions about Bafana and concerns still remain.

Soccer Laduma International correspondent Kurt Buckerfield sheds light on statements made by Barcelona President Joan Laporta and who he claims has already signed for the Catalan giants for the 2022/23 season. Kurt provides an in-depth review of the latest 2022 FIFA World Cup qualifiers and who will be heading to Qatar.

On the latest episode of the International News Desk, former Mamelodi Sundowns and Ajax Cape Town Goalie Sean Roberts chats to Soccer Laduma International correspondent Kurt Buckerfield about the recent fixture which saw Bafana get drummed 5-0 to current world champions France. The gents break down the 2022 FIFA World Cup Qualifiers and chat about the alleged poisoning of soon-to-be former Chelsea FC owner Roman Abramovich!