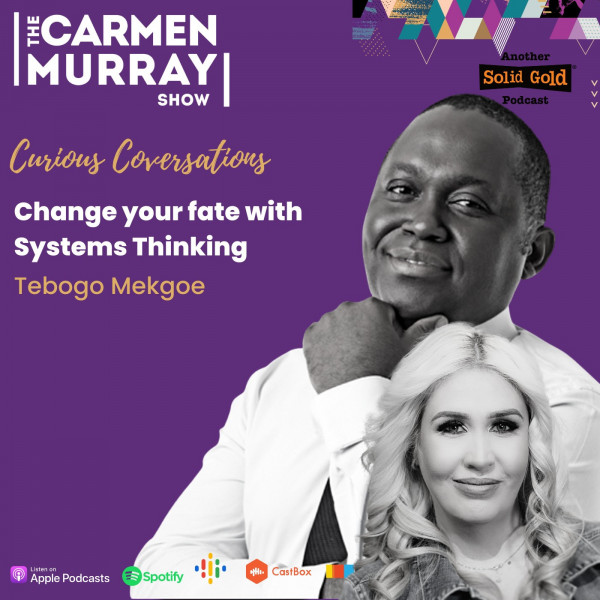 #097 Change your fate with systems thinking | Tebogo Mekgoe
How you can solve problems by putting yourself in the middle of complexity.

Grab yourself a cuppa coffee and learn from South Africa's best system thinkers and strategists. How can you change your business fate by applying systems thinking?

In this episode:
Systems Thinker and Strategist, Tebogo Mekgoe shares his insights on how systems thinking requires mastery over victory.
When you deal with complex problems, can you put yourself in the middle of the problem; or do you remove yourself from the problem? It's so easy to put the "gut" into problem-solving, but can you take the gut out of problem-solving?

About our guest:
Tebogo Mekgoe (Founder of Orenda Advisory & Strategy, Educator at Henley Business School, former COO at ACSA) helps founders/CEOs of growing medium-sized firms to transform their teams' collective mindset, improving strategic alignment & helping to accelerate the firms' growth & profitability.

About Carmen Murray Communications:
Headed by Founder Carmen Murray, Award-winning digital analyst, content specialist, and multiple podcast host. Carmen Murray Communication is a data-driven, content marketing business conceptualising Freakishly Effective Continent. A little offbeat, but always on point. They offer tried and tested analytical data intelligence to inform their content marketing strategy. Whether it's written word, with perfectly crafted copy, Video content that inspires action, Voice content, like podcasts and interviews, that reach the ears and touch the soul, or Graphics, that tell a story with every pixel. Carmen Murray Communications is skilled to execute on any platform.