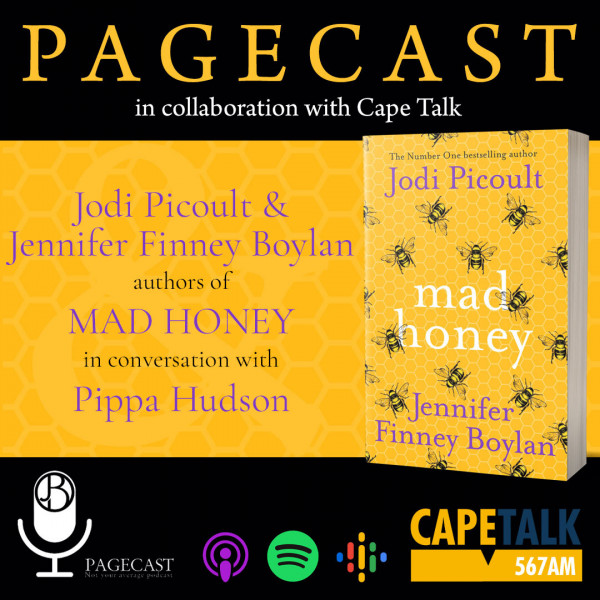 "Mad Honey" with Jodi Picoult and Jennifer Finney Boylan
This episode is brought to you in collaboration with CapeTalk 567.

CapeTalk Presenter Pippa Hudson is in conversation with authors of Mad Honey, Jodi Picoult & Jennifer Finney Boylan.

About the book:
Olivia fled her abusive marriage to return to her hometown and take over the family beekeeping business when her son Asher was six. Now, impossibly, her baby is six feet tall and in his last year of high school, a kind, good-looking, popular ice hockey star with a tiny sprite of a new girlfriend.

Lily also knows what it feels like to start over - when she and her mother relocated to New Hampshire it was all about a fresh start. She and Asher couldn't help falling for each other, and Lily feels happy for the first time. But can she trust him completely?

Then Olivia gets a phone call - Lily is dead, and Asher is arrested on a charge of murder. As the case against him unfolds, she realises he has hidden more than he's shared with her. And Olivia knows firsthand that the secrets we keep reflect the past we want to leave behind - and that we rarely know the people we love well as we think we do.

About Jodi:
Jodi Picoult is the author of 25 novels, with 40 million copies sold worldwide. Her last twelve books have debuted at #1 on the New York Times bestseller list, including her most recent, THE BOOK OF TWO WAYS. Five novels have been made into movies and BETWEEN THE LINES (co-written with daughter Samantha van Leer) has been adapted as a musical. She is the recipient of multiple awards, including the New England Bookseller Award for Fiction, the Alex Award from the YA Library Services Association, and the NH Literary Award for Outstanding Literary Merit. She is also the co-librettist for the musical BREATHE, and the upcoming musical THE BOOK THIEF. She lives in New Hampshire with her husband.

About Jennifer:
Jennifer Finney Boylan is the author of numerous works of fiction and non fiction, including the seminal She's Not There: A Life in Two Genders (2003), which was the first bestselling work by a transgender American. She is a trans activist and a professor at Barnard College, and has appeared on reality TV shows and various US media in support of her friend Caitlyn Jenner. Her most recent book is the memoir Good Boy: A Life in 7 Dogs, published April 20 by Celadon/Macmillan US.