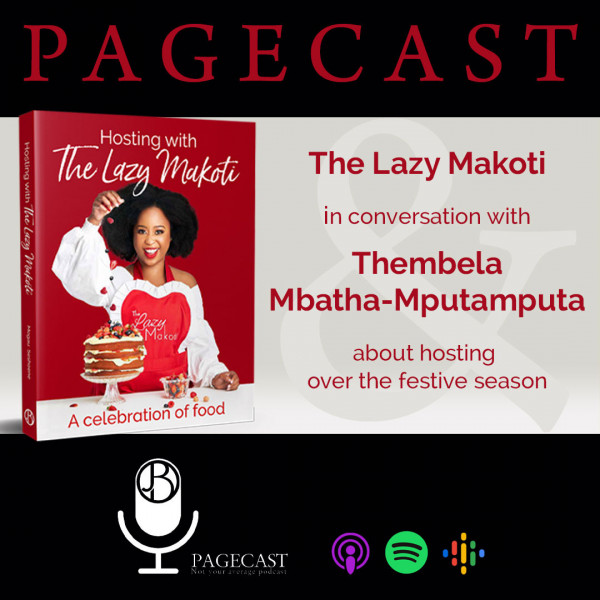 Hosting with the Lazy Makoti Book by Mogau Seshoene
In this week's episode, publicist and book lover Thembela Mputamputa is in conversation with Mogau Seshoene, author of Hosting with the Lazy Makoti.

About the book:

The highly anticipated new cookbook from South Africa's award-winning and bestselling cookbook author and chef.

"I am back with a brand-new collection of over 100 delicious, easy-to-follow recipes! In my highly anticipated new cookbook, Hosting with the Lazy Makoti, I will show you how to host any occasion with stylish and tasty food, from soul-warming one-pot dinners, irresistible easy bakes, and hearty plant-based dishes to Mzansi favourites, flavourful seven-colour meals, decadent desserts, vibrant African cuisine, and much more."

'Her unique characteristics and impressive enthusiasm flood the pages.' - Abigail Donnelly

'Mogau's way with food puts beautiful labels on age-old foods that have been passed from generation to generation.' - Florence Masebe

'This is not just a cookbook, but a demonstration of what one can achieve with passion.' - Savita K Mbuli

About the author:
Mogau Seshoene is a trained chef and award-winning cookbook author. Her previous book, The Lazy Makoti's Guide to the Kitchen, became an instant bestseller. Mogau has received a Gourmand World Cookbook Award and a USIBA Creative and Cultural Industries Award, and was named the 2021 Luxe Restaurant Awards Culinary Media Personality of the Year. She's featured on the Forbes Africa '30 under 30' list and the Mail and Guardian Top 200 Young South Africans list.