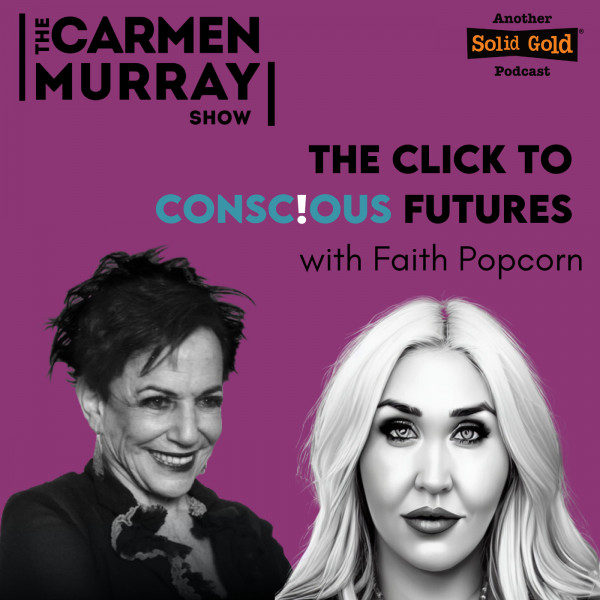 #098 The CLICK to conscious futures | Faith Popcorn
In this episode, Carmen Murray and Faith Popcorn chat about the futures they see; from the rise of a psychic workforce to the AI transformers.

About Faith Popcorn:
Faith Popcorn is the founder and CEO of Faith Popcorn's BrainReserve, the futurist marketing consultancy she established in 1974. She is also the best-selling author of The Popcorn Report, Clicking, EVEolution, Dictionary of the Future, and the upcoming Popcorn Report Revisited.

The New York Times has called her "The Trend Oracle," Fortune magazine named her, "The Nostradamus of Marketing," and she is recognized as America's foremost Trend expert.

About Carmen Murray:
Carmen owns her difference by seeking unconventional methodologies beyond her academic background, which includes Futurism, Netnography, Psychology, Ancient Numerology, and Astrology. As an intuitive, she has a unique way to look at the future through her deeper understanding of the inner workings of things.
Carmen is a torchbearer for diversity and inclusion and can also be found on the digital airwaves with her charting podcast. She is the exclusive representative of The Connected Marketer™ in Africa, Masterclasses (CX, UX, AI, Mobile).

Carmen's extraordinary journey has taken her across the world, with accolades racked up along the way. Her career started in the premium service industry, where she learned the value of delving into the human psyche. Combining that knowledge with her passion for data science and digital content creation, allowed her to construct and refine her unique "secret sauce recipe" for hyper-personalised content strategies. This one-of-a-kind approach has made her a sought-after secret weapon in the arsenal of marketing executives and tycoons across the globe.