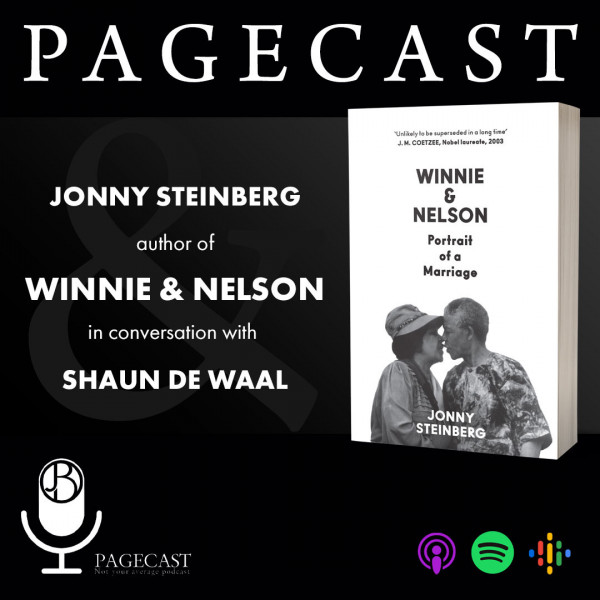 Winnie and Nelson: Portrait of a Marriage by Jonny Steinberg
Welcome to Pagecast, the book-centred podcast series presented by Jonathan Ball Publishers. In this episode, Shaun de Waal, News24 Books Editor, interviews South African writer Jonny Steinberg about his latest book, "Winnie and Nelson: Portrait of a Marriage."

In this captivating book, Steinberg explores the marriage between Nelson Mandela and Winnie Madikizela-Mandela. As Mandela spent years in prison, his love for Winnie grew, portraying her in his letters as an idealized version of his wife, frozen in time like young lovers. However, Winnie, who was his political equal, became increasingly distant from her husband's political beliefs.

Behind Mandela's back, Winnie attempted to orchestrate an armed seizure of power, a path that he feared would lead to an endless war. Jonny Steinberg narrates the compelling story of this extraordinary marriage, delving into its desires, obsessions, and betrayals, while also weaving it into the political tapestry of South African history.

"Winnie and Nelson" is a modern epic that demonstrates how the trauma within a marriage can reverberate throughout an entire nation. It also resembles a Shakespearean drama, intertwining themes of love, commitment, and timeless questions about revolution, such as seeking retribution versus pursuing a negotiated peace.

With powerful and tender emotional insight, Steinberg reveals the extent to which these inseparable leaders would go for each other, as well as the boundaries they set. Ultimately, they understood that their union was not just a marriage, but a struggle to define the policies of anti-apartheid.

Thank you for listening, and enjoy this episode of Pagecast.

About Jonny Steinberg:
Jonny Steinberg is the author of several books about everyday life in the wake of South Africa's transition to democracy. He is a two-time winner of South Africa's premier non-fiction prize, the Sunday Times Alan Paton Award, and an inaugural winner of the Donald Windham-Sandy M. Campbell Literature Prizes. Until 2020, he was professor of African studies at Oxford University, and he currently teaches part-time at Yale and is visiting professor at the Wits Institute for Social and Economic Research (Wiser).