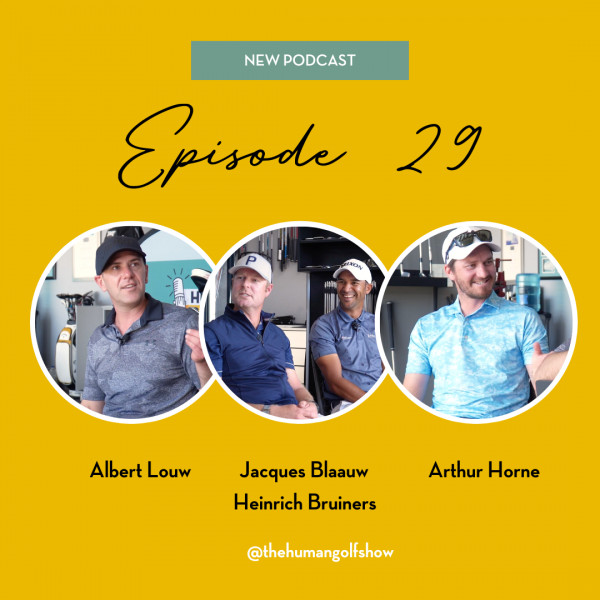 REAL GOLF TALK With Professional Golfers Jacques Blaauw And Heinrich Bruiners
On Episode 29: Jacques Blaauw And Heinrich Bruiners (Pro Golfers)
A great inside from the two professional golfers on what goes on behind the scenes.
Jacques Blaauw
Jacques began learning his trade as a 10 year old boy out of Boschenmeer Golf Club in Paarl, and took to golf immediately. Making his way steadily through the junior ranks, he received a scholarship in 2007 to attend the USA's Oklahoma City University, from which point his game flourished. He won the 2007 Texas Intercollegiate Championship, before returning to his native South Africa the following year to conquer the local Amateur ranks. During 2008, he won both the SA Amateur Strokeplay and Matchplay, along with the Free State/Northern Cape Open. In the same year, Jacques represented South Africa at the Eisenhower Trophy in Australia and captained the SA four-man team for a once off test match against France. Jacques was later named Golf Digest and Compleat Golfer's amateur of the year for 2008, and decided it was time to turn pro. Since gaining his card for the Sunshine Tour in 2009, Jacques has enjoyed steady finishes in the order of merit, never finishing outside the Top 60 and recording career earnings in excess of R1 million. Jacques already has numerous Top 5 finishes to his name, and his maiden victory is surely not far away. In his spare time, you're likely to see Jacques working out at the gym or playing Xbox, and listening to David Guetta. His dream is to play at Augusta, and like many, considers Ernie Els and Tiger Woods to be his role models.
Heinrich Bruiners:
Heinrich Bruiners is a personable young man from George with a wonderful talent who made a breakthrough in his career when he won the Vodacom Origins of Golf Sunshine Tour event at the tough Euphoria Golf Estate.
Heinrich is such a story. He grew up in an environment that gave him access to various sports and as is so often the case he was pretty good at all of them. By all accounts his table tennis skills were something to see, but golf is where his passion lies and as a junior he competed successfully with the likes of Brandon Grace and he represented the Southern Cape as a junior provincial golfer. His continued success saw him being awarded with national colours when he made the South African junior team that played in Japan.
Hit that play button now and let's tee off together
Guest Details:
https://www.instagram.com/jacques.blaauw/
https://www.instagram.com/heinrichbruiners/
Where to find us:
Full List -
https://linktr.ee/thehumangolfshow
Instagram -
https://www.instagram.com/humangolfshow/?hl=en
TikTok -
https://www.tiktok.com/@humangolfshow
Facebook -
https://www.facebook.com/TheHumanGolfShow
Twitter -
https://twitter.com/HumanGolfShow
Spotify -
https://open.spotify.com/show/702VT4NNrZWcqdOnwIHrxB
Apple Podcasts -
https://podcasts.apple.com/za/podcast/the-human-golf-show/id1645883214
Google Podcasts -
https://podcasts.google.com/feed/aHR0cHM6Ly9pb25vLmZtL3Jzcy9jaGFuLzc1ODU
iono -
https://iono.fm/c/7585