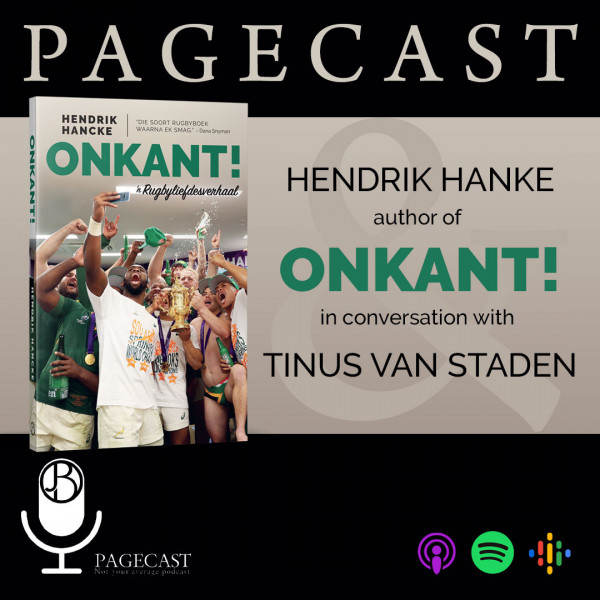 Onkant! 'n Rugbyliefdesverhaal by Hendrik Hancke
Rugby is een van my passies, een van my liefdes. – Gcobani Bobo, oud-Springbok

Het jy al ooit gewonder hoe dit moet voel om vir die Springbokke gekies te word of hoe 50 000 ekstatiese ondersteuners op die pawiljoen klink?

Met die Rugbywêreldbeker om die draai, het Hendrik Hancke die land deurkruis om met oud-Springbokke en ander rolspelers, insluitend breiers en'n skeidsregter, te gesels oor hul liefde vir rugby. Hulle deel oomblikke in die kleedkamer, persoonlike oorwinnings en voorheen ongepubliseerde stories oor wat van die veld af en op toer gebeur.

Schalk "Schalla" Brits verduidelik waarom dit so noodsaaklik vir 'n Springbok is om 'n spanspeler te wees, terwyl Gcobani Bobo aangrypend vertel van sy reis met rugby van King Williamstown tot Nieu-Seeland. Frik du Preez verklap weer hoe hy en 'n voormalige Nobelpryswenner mekaar gevind het oor hul gedeelde afkeer van Brusselse spruite en Jean de Villiers gesels oor die hoogtepunte en uitdagings van Springbok-kaptein wees.

As jy Saterdagmiddae kliphard vir die televisie skree of op die sypaadjie sal slaap vir 'n kaartjie na 'n groot wedstryd, dan is dié boek vir jou!