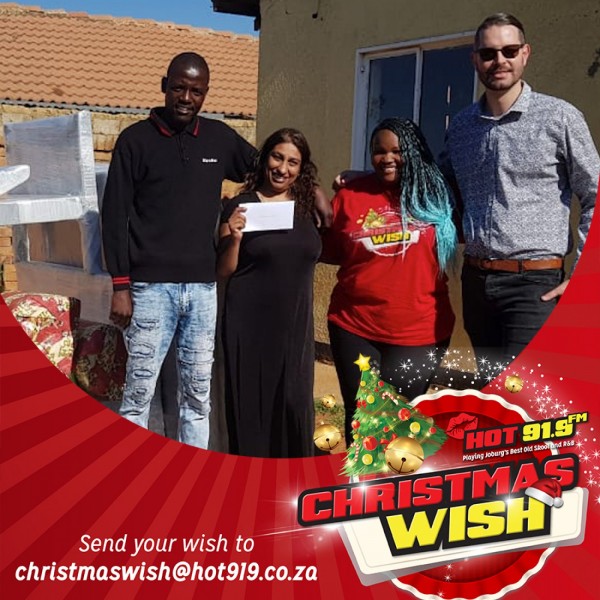 CHRISTMAS WISH - TASNIM CHOPDAT
Rubena got in touch with Hot 91.9FM Christmas Wish and nominated her cousin, Tasnim Chopdat and her five children.
On the 27 October 2018 a fire struck Tasnim's home. Mercifully nobody was hurt and only parts of the house were affected. However, the worst affected by the blaze was her youngest three daughters' bedroom.
As if that were not bad enough, the fire happened during exam time burning all the girls' school books, uniforms, clothes, shoes and many treasured, invaluable personal items. All they had remaining were the clothes they were wearing on the day.
Rubena's Christmas Wish for her cousin was for some assistance to replace the beds, which have left the children with nowhere to sleep as well as a voucher to buy the little ones much – needed clothing.
Hot 91.9FM Christmas Wish contacted the good people at Dial-A-Bed who generously gifted a tri-bunk bed for the kids' bedroom.
But what about the clothing? Well, thanks to Jawitz Properties that's no longer an issue either. They kindly donated R20 000 worth of school uniform, clothing, school equipment as well as some of the children's most favourite things that they had lost in the fire. And, to round it all off, Hot91.9FM Christmas Wish will purchase replacement linen, bedding and curtains to make their room feel like a home again!
Thanks to Hot 91.9FM Christmas Wish and the kindness of our partners, we're able to make this holiday season a truly merry one for Tasnim's girls.