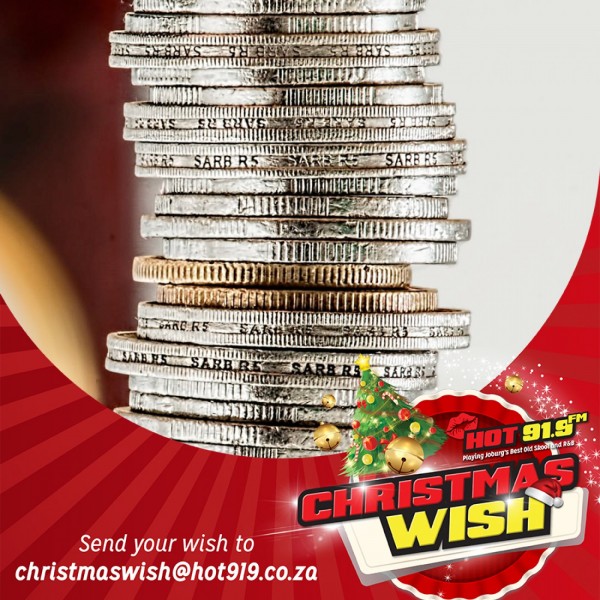 CHRISTMAS WISH - NIKITA REEVES - 18 12 18
Heidi Duminy wrote to Hot 91.9FM Christmas Wish about her vivacious young colleague, Nikita Reeves. At 23 years old, Nikita is studying part-time at the IMM Graduate School of Marketing whilst working full-time to pay for her studies.  And, until recently, things were looking really promising for her.

That all changed when Nikita's 13-year-old half-brother, Ethan, ran the risk of being remanded into state care. Ethan's father has long been out of the picture and, to make matters worse, their mother has also spent the better part of 2018 in rehab.

Nikita is now faced with the mammoth task of caring for her young brother, who at this point has nowhere to turn. This means that Nikita will have to move from Kempton Park where she stays to be closer to Ethan's school in Randburg. She will also have to find a place to live and furnish this home from scratch. Then there are things like school fees, uniforms and stationery. Nikita's car is also due for a major service next year too. Combine all these costs with her own academic expenses and the mountain to climb is seemingly a large one. Despite it all, Heidi tells us that Nikita has taken on this extraordinary responsibility with no complaints.

So, how can Hot 91.9FM Christmas Wish make a difference? With the kind and generous help of Silverstar Casino, Ethan and Nikita's fees for 2019 are now covered. Silverstar went one step further though, and will also be furnishing their new home - from rugs to curtains, appliances and furniture along with a monthly grocery voucher to help with the monthly expenses!

And, to top it all off, an anonymous Hot91.9FM listener has graciously offered to purchase the school uniforms and stationery for Ethan, while Hot Cares will be taking care of Nikita's car service.

We wish Ethan and Nikita all the best and a successful and fun-filled 2019 in their new home together.