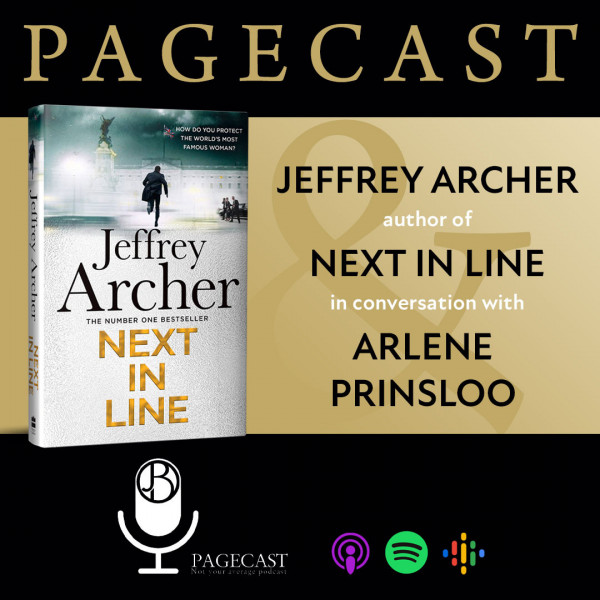 Next in Line by Jeffrey Archer
Veteran journalist and Author Arlene Prinsloo interviews the legend that is Jeffrey Archer regarding his latest book.

About the book:
London, 1988. Royal fever sweeps the nation as Britain falls in love with the 'people's princess'.

Which means for Scotland Yard, the focus is on the elite Royalty Protection Command, and its commanding officer. Entrusted with protecting the most famous family on earth, they quite simply have to be the best. A weak link could spell disaster.

Detective Chief Inspector William Warwick and his Scotland Yard squad are sent in to investigate the team. Maverick ex-undercover operative Ross Hogan is charged with a very sensitive – and unique – responsibility. But it soon becomes clear the problems in Royalty Protection are just the beginning. A renegade organization has the security of the country – and the Crown – in its sights. The only question is which target is next in line…

About Jeffrey:
Jeffrey Archer, whose novels include the Clifton Chronicles, the William Warwick novels and Kane and Abel, is one of the world's bestselling authors, with sales of over 275 million copies around the world. Famous for his discipline as a writer who works on up to fourteen drafts of each book, Jeffrey also brings a vast amount of insider knowledge to his books. Whether it's his own career in politics, his passionate interest in art, or the wealth of fascinating background detail – inspired by the extraordinary network of friends he has built over a lifetime at the heart of Britain's establishment – his novels provide a fascinating glimpse into a range of closed worlds. A member of the House of Lords, the author is married to Dame Mary Archer, and they have two sons, two granddaughters and three grandsons. He splits his time between London, Grantchester in Cambridge, and Mallorca where he writes the first draft of each new novel.

About Arlene:
Arlene Prinsloo is a veteran journalist, who has worked for Netwerk24, Rapport, Die Burger and Beeld in a career spanning 30 years. She has covered royal news as a blogger for Sarie and Netwerk24. Prinsloo lives in Cape Town.